Gowanda Central High School


Class Of 1961
WHO'S ONLINE NOW
No registered users are online right now.
UPCOMING BIRTHDAYS

WELCOME TO THE
GOWANDA CENTRAL SCHOOL
CLASS OF 1961
see on youtube or facebook "you know you're from gowanda"
Your reunion committee has scheduled the 55th class reunion for September 16-17, 2016:
Friday night get together - September 16, 2016 - 6PM - ? at The WICKED GLEN, Gowanda, NY, food available.

Saturday, 9/17/2016, 12 Noon tour of Hollywood Theater - tour takes approximately 1 hour - please email Mary at mstelley@aol.com if you wish to attend the Hollywood tour.

Saturday night buffet dinner - September 17, 2016 - 6PM - J. P. Fitzgerald's, 4236 Clark Street, Hamburg, NY, $25.00 per person (baked ziti, roast beef with mni weck & ciabatta rolls, lemon pepper chicken, 3 salads, coffee, tea and pop). Reservations by 9/10/2016.

Please send checks to: Peggy (Panepinto) Murphy at 157 Kenton Place, Hamburg, NY 14075 for $25.00 per person, payable to Peggy Murphy (55th reunion in memo field). Hope to see you there!
Please forward any suggestions for the reunion to Donna Schiedel at ddschiedel@bresnan.net. ( 406-245-8236)
Classmates Planning on Attending Reunion:
(We want to add your name!)
Mary Stelley and Bob
Donna Carnes Schiedel and Doug
Larry Frenkel
Luis Lee and Heather (not attending due to prior comittment)
Jim Mardock bringing Jack (Culbertson) Broyles
Art Titus (moving can't make it)
Paul Bowers (unable to attend due to tractor accident)
Doug & Pat Wojcieszyn
Juanita Kuhs Dorer and Barbara
Peggy Panepinto Murphy and Dan
Serena Sager Boguslowski
Bonnie Dabolt Merritt and Clayton
Louis Dispenza and Theresa
Mary Carlson Clark and Dick
Linda (Spaulding Frost
Bob Valentine
Janice (Van Slyke) Kissel
The Other Side of the Mountain
As a youth, we sang the song "The Bear Went Over the Mountain Just to See What He Could See." When I left the Seneca Territories of western New York State to attend Syracuse University, I felt like I was that bear. After college, I returned to the "Rez" until deciding to leave again to do what I had wanted to since childhood: become a Madison Avenue Creative Director. One of my relatives gets anxiety attacks when he leaves the Reservation; I'm sure there are many who feel safe only in their limited realm. It is difficult for me to understand why anyone would not wonder, "what is on the other side of the mountain."
I am a "full blood" Seneca of the Iroquois Six Nations – all Native North Americans have the same "O" blood type (including the true natives of Hawaii). If I hear a person in a crowd, a radio or TV, I can recognize the tonal value and manner of speaking as "Indian". However, Central and South American Natives are very different in appearance, customs and languages. Places, people, customs and languages are different everywhere that I have been fortunate enough to have traveled just as the Grand Canyon is as awesome as the Swiss Alps. English is spoken in many parts of the world; yet accents in Boston, MA, Australia and Scotland are all very different. Once I asked directions in Edinburgh, Scotland and yet only understood perhaps one word of that "English" spoken.
My wife, Heather, and I recently took a Danube River cruise starting in Passau, Germany and ending in Budapest, Hungary. The languages, cultures and ways of life in each city and country were totally diversified and each many thousands of years old. Seeing what's down the river is almost the same as looking over the mountain.
The most important thing to me in my seeking "what's on the other side of the mountain" is how alike all people really are. They are gracious, friendly, proud, and when given a smile, return it with warmth. There is so much media attention given to all the evil in the world; in my observations "goodness" shall prevail here and on the other side of the mountain.
Luis Robert Lee – Co-Editor
"Guin Yah Geyh" Seneca name meaning "Something from the Clouds".
Please send more great get together photos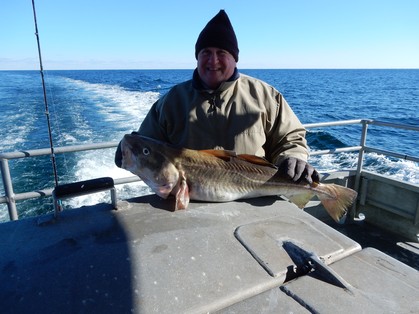 "Isn't it great to be retired and have time to fish, even if it is a bit cold. Enjoy the picture of the prize winning Atlantic cod. The cod is the thing on the table not the person standing beside it.. Regards, Larry"