Gowanda Central High School


Class Of 1961
In Memory
Thomas Stout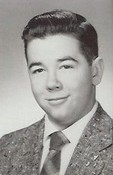 In loving memory of Tom who passed away on Sept. 10, 2006, son of Mary (Lepp) and Leslie V. Stout from his wife Sheryl and children Kathryn (Kitty) and husband Michael (State College, Pa) William (Bill) and wife Robin (Dallas, Tx) and David and wife Angela (Erie,Pa) three grandchildren, Katie Louise, Daniel Thomas and Kiersten Anne. He is also survived by a sister, Linda Peck and husband Charles of Gowanda and Leesburg, Fla and several nieces. Parent also to Gustavo Rugnone Macri an exchange student from Mendoza, Argentina
Following graduation from Bryant & Stratton, Buffalo, NY in 1963, Tom moved to Erie, to work for Lyons Transp. Lines as chief accountant and later as controller. Eventually, the company was sold and Tom became owner and president of LTL Properties.
Tom was a long time member and past president of the National Assoc. of Accountants having served in other capacities for the organization. He was also a longtime member of the Erie Runner's Club having run several 10K races and especially enjoying the Pittsburgh Great Race for many seasons. Tom also served as Treasurer of St. Mark's Episcopal Church and was an active member of the Vestry and was a lay eucharist minister. He also served on the Diocesan Council of NW PA. He was a great fan of the Cleveland Browns and never lost his faith in their ability to win.
Tom was cremated and is interred in the columbarium at St. Mark's Epis. Church, Erie, Pa. He is deeply missed by his wife, family and friends. A loving husband and a good and faithful servant.