Gowanda Central High School


Class Of 1961
WHO'S ONLINE NOW
No registered users are online right now.
UPCOMING BIRTHDAYS

WELCOME TO THE
GOWANDA CENTRAL SCHOOL
CLASS OF 1961
"Christmas in Gowanda 2015 WWII Tribute to Veterans"
see on youtube or facebook "you know you're from gowanda"
HOLIDAY LETTER, DECEMBER 2015
We hope that this letter finds you and your loved ones happy, healthy, and prosperous. This year has marked a few changes in our collective lives. Jason has generously moved from Rockford, IL to Somerset, NJ to help care for his mother. She is stable but I am no longer strong enough to move her around from bed to bathroom to her wheel chair, etc. We do have a wonderful lady who for the past nine years has been a loving godsend in helping care for JoAnn. During the past year, Lory has been able to travel for her job, to Nepal traveling through Dubai after the earthquake. She also got to return to England to spend time with friends in her favorite city, London. After her third year in Washington, working for the Futures Group, Lory has moved back to her second favorite city, New York, as the Communications Officer for the Columbia University School of Public Health International Program. She is scheduled to travel to South Africa for work next month, and much to her joy, with more international travel during the coming year. She will be in England next week for a friend's wedding. No, she is not a jet setter!
My circumstances have changed a bit, as well, not completely by choice. My night vision has decreased enough to make me hesitant to continue driving at night (my daughter sent me an article about intelligent older people knowing when to give up driving). My arthritis, especially in my knees, and decrease in energy level are at appoint to make me doubt that I could continue to enjoy or keep up with the physical demands of international travel. As you might guess, all this is inconvenient and an annoying surrender to the infirmities of getting old.
On the other hand, I have been able to enjoy several short US trips this past year including: an Academy of Pediatrics legislative conference in Washington, DC, a week lecturing at the medical school in Rockford, a trip to Savannah, Georgia to help my brother-in-law celebrate his 80th birthday, and trips to DC and Rockford to help Lory and Jason move.
Lory has been living with us since October, until she gets an apartment in Manhattan or Fort Lee. For some reason (her father drives her to the train at 6am, cooks supper for the family, does the dishes, etc.) she does not seem eager to find an apartment! But we love having our children around and thank god, that at JoAnn's insistence, we bought a big enough home here in NJ when I retired ten years ago. The house has four bedroom suites so we still have a guest room open for any of you who want to come and visit.
Otherwise, I can't complain too much, life continues to be busy with a bit of consulting, teaching at Saint Peter's Children's Hospital once a week, and a lot of activity with the Academy of Pediatrics in NJ as well as some academic writing (published two articles this past year). I also write questions for student, resident, and CME exams as well as reviewing articles for several medical journals.
Please keep us posted with your life events and have a great Holiday and Happy New Year!
Fondly,
The Frenkel family.
SAVE THE DATE!
Your reunion committee has scheduled the 55th class reunion for September 2016:
Friday night get together - September 16, 2016 - 6PM - ? The WICKED GLEN, Gowanda, NY
Saturday night dinner - September 17, 2016 - 6PM - J. P. Fitzgerald's, Hamburg, NY
Please forward any suggestions for the reunion to Mary Stelley at mstelley@aol.com or Donna Schiedel at ddschiedel@bresnan.net. We will be meeting to start planning the details of the reunion, including costs etc. Hope to see you in September 2016.
Please send more great get together photos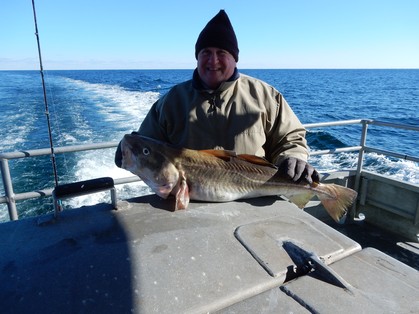 "Isn't it great to be retired and have time to fish, even if it is a bit cold. Enjoy the picture of the prize winning Atlantic cod. The cod is the thing on the table not the person standing beside it.. Regards, Larry"